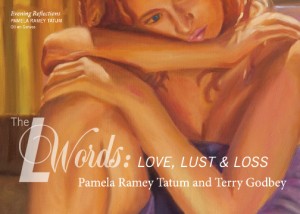 Painter Pamela Ramey Tatum and I will portray the many facets of love and its sidekicks lust and loss in paintings and poetry on Saturday, Nov. 1, in New Smyrna Beach.
The show, from 4 to 8 p.m., will be at The Hub on Canal, a historic downtown building that's home to more than 70 working artists. Pamela will give an artist's talk at 6 and I'll follow at 6:30 with a reading of my poems, many of which will hang among the paintings. Our event is part of the First Saturday Gallery Walk, so there will be plenty of artwork to admire, and appetizers, wine and music, too.
Saturday, Nov. 1, 4 to 8 p.m.
Gallery Talk, 6 p.m.
Poetry Reading, 6:30 p.m.
The Hub on Canal
132 Canal St., New Smyrna Beach
386-957-3924